Back to Events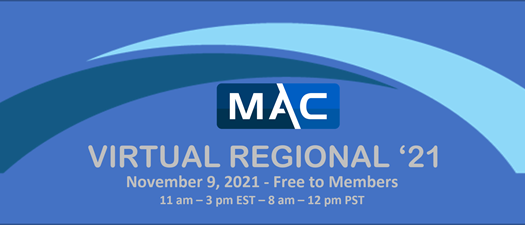 Virtual Regional 21
Education - Updates - Trends
Tuesday, November 9, 2021
Event Details
MAC Virtual Regionals
Members: Click Here to Access the Video Playback of the Event
MAC's Regional events are an annual tradition that act as a bridge in-between annual conferences so MAC members can still connect to subject matter experts on trending topics, card brand updates, and each other. While we can't host the regionals in person this year ... MAC can still provide the bridge.

Please join your fellow MAC members for an intimate half-day of sessions. With smaller 'micro' sessions centered on hot topics and larger panel discussions covering a range of sub-topics, attendees will be able to get vital information without having to wait until next year's annual conference, Level Up.

Agenda Details
Start Time: 11:00 AM EST
End Time: 3:00 PM EST
(Sessions and Timing is subject to change)
Download the full agenda here.
NOTE: The Mastercard and Visa sessions have swapped spots. Visa will now be at 12:10 and Mastercard will be at 2:35. Earlier versions of the agenda showed them in the original order. We apologize for the late change.
AGENDA
11:00 AM
WELCOME!
11:05 AM

The Compliant Myths of Surcharging/Cash Discounting Programs as they continue to grow and succeed within our payments eco-system!
David Leppek, Executive Payment Consultant, StatementIQ


Adding a surcharge to a card payment is a relatively recent trend with U.S. payment solutions, and yet the majority of the products offered are knowingly non-compliant. We will explore the
various schemes, the justifications used to persuade others that they are compliant, and why the industry doesn't seem to care. These are things for you to consider when supporting the variety of programs in your own shops!
11:45 AM

How Safe Are Your Merchants' Shopping Carts?
David Ellis, VP, Investigations, GCIH, PFI, QSSA, CISSP, SecurityMetrics

In the new economy, integrity is king. While the payments ecosystem has long been online, the current crisis forces many onto the web–ready or not. As the payments industry deals with these challenges, another threat lurks: malicious attacks on payment pages that siphon form data and sell it on the dark web. Current security solutions only take you so far; rampant skimming attacks remain largely out of reach since they occur in a dynamic environment. So how can you detect it? How can you maintain integrity? SecurityMetrics VP of Investigations, David Ellis, will address this perplexing problem and demonstrate to attendees that there is a way to come out on top.

11:55 AM
Agenda Break
12:10 PM

The Current and Future Threat Landscape

Cihat Fitzgerald, Sr. Director, Ecosystem Security & Integrity, Visa


Please join Visa as they give an update on current trends and hot topics.
12:30 PM

2021 Disputes Panel – Looking To The Future Beyond Traditional Chargebacks

Dom Cirone, SVP, Acquirer Solutions, Midigator
Craig McClure, Director - Relationship Management, Chargebacks911
Jim Bibles, Senior Vice President Risk and Compliance, Aperia Solutions

Please join a panel of industry disputes experts to discuss current trends in disputes from a rules and risk perspective, and how these trends will be affected by upcoming card brand changes and enhancements to the overall dispute flows.


1:10 PM

Nifty Ten Minutes on NFT's
Christopher Boone, Associate, Venable

NFTs (non-fungible tokens) are all the rage, but what exactly are NFTs, and why are people paying an arm and a leg for them? This webinar will explore the quickly developing world of NFTs, explain NFT fundamentals, and highlight the latest regulatory developments and risk concerns relating to NFT platforms.


1:20 PM

Agenda Break
1:35 PM

Buy Now Pay Later: The Hot World of Installments

Yuliya Kazakevich, Head of Merchant Risk, Afterpay

Buy Now Pay Later (BNPL) space has been one of the hottest fintech verticals lately. This session will explore the basics of BNPL, the benefits to the merchants and considerations for risk and
compliance professionals.


1:45 PM
Adult Merchants — 3 Things to Know About the New
Mastercard Rules - Sponsored by Verisk Financial G2


Dave Landis, Senior Vice President, Sales Verisk Financial G2

New Mastercard rules to prevent illegal adult content go into effect on October 15, 2021. Have you and your merchants made the necessary adjustments? In this fast-paced session, we'll cover everything you need to know:
What are the new rules?

How do they affect you?

How can you ensure compliance?

1:55 PM

Regulatory Update for 2021: How the Biden Administration Has Changed the Landscape
Ed Marshall, Partner, AGG
Theresa Kananen, Partner, AGG


Focus on regulatory enforcement actions and trends under a new CFPB and reconstituted FTC, including Supreme Court precedent on the enforcement authority of the FTC.
2:35 PM
Mastercard Autumn Updates


David Press, Mastercard

Please join David Press from Mastercard as he provides all of the essential updates you will want to hear. This session is intended to provide a bridge between the MAC annual
conferences.


2:55 PM
Closing and Goodbye
---
Thank you to the MAC Virtual Regionals Partners who make educational events like this happen.