Level Up 21
Virtual Meeting Dates: July 27-28, 2021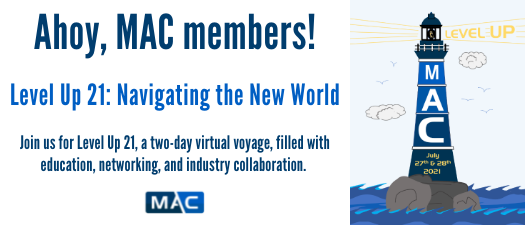 "Navigating the New World"
As the world churns and changes, it is becoming harder to see what is coming on the horizon. The best way to avoid the risks in the darkness is to shine the light on education, community, and communication. The landscape has changed drastically over the past year, and we still don't know the look of the 'new world.' Navigating this post-pandemic world will take a compass of insight and a strong sail of community communication to lead us into tomorrow.
MAC and its Level Up annual conference has been the safe haven before the pandemic and will continue to provide you with the knowledge and resources you'll need after. We invite you to return this year and share your knowledge and lessons learned with your peers.
Education
Level Up is the industry's premier event for collaboration, communication, and education dedicated to risk mitigation, regulatory compliance, and transformation and growth in the payments industry.
Networking
Level Up attracts 450+ payment professionals for networking, education, and sharing experiences and best practices. Level Up provides unrivaled access to your peers in the industry. The conference delivers content cultivated by some of the industry's most talented risk and fraud experts and features sessions for all levels of expertise from keynotes to roundtables.
Resources
Our industry partners and speakers will provide white papers, tools, and other resources needed to face your daily challenges. Schedule demos, ask questions from experts and hear possible solutions from your next solution provider.
Agenda
Agenda announcements will be made in the near future. Our volunteer carpenters have their hard hats on and are hammering away constructing the toughest agenda possible. Some of the topics covered this year may include:
Using creativity in the middle of chaos
High Risk & Speciality Merchants from a card brand perspective
Upgrade to the AML laws
Payment services in the cannabis industry
Casinos & Gaming
Trends towards cashless
Dark Web reporting
Card testing
Vaccine Passports
Fraud disruption
* Agenda topics subject to change.

Sponsorships

MAC Events are a great venue to get your message out to your clients and speak directly with potential clients. We have many exciting options available for all budgets. To see our Sponsorship Opportunities - Click Here or email one of our Committee Volunteers below.


Please contact:
Alexis Lichterman alexis@saluspayments.com
Dave Landis Dave.Landis@verisk.com
Brian Reddoch brian.reddoch@macmember.org