How Do Payments Companies Benefit from a Government Relations Program?
Date posted
February 24, 2022
How Do Payments Companies Benefit from a Government Relations Program?
By: The MAC Government Relations Strategic Interest Group
Government policies and regulatory priorities can have a measurable impact on any business. For MAC members in the payments industry, having a strategy to manage government relations is becoming increasingly important both internally as well as relying on outside resources.
Policies impacting issues ranging from state‑level sales tax to national policies on data security and privacy matter to your company no matter the size or reach of its operations.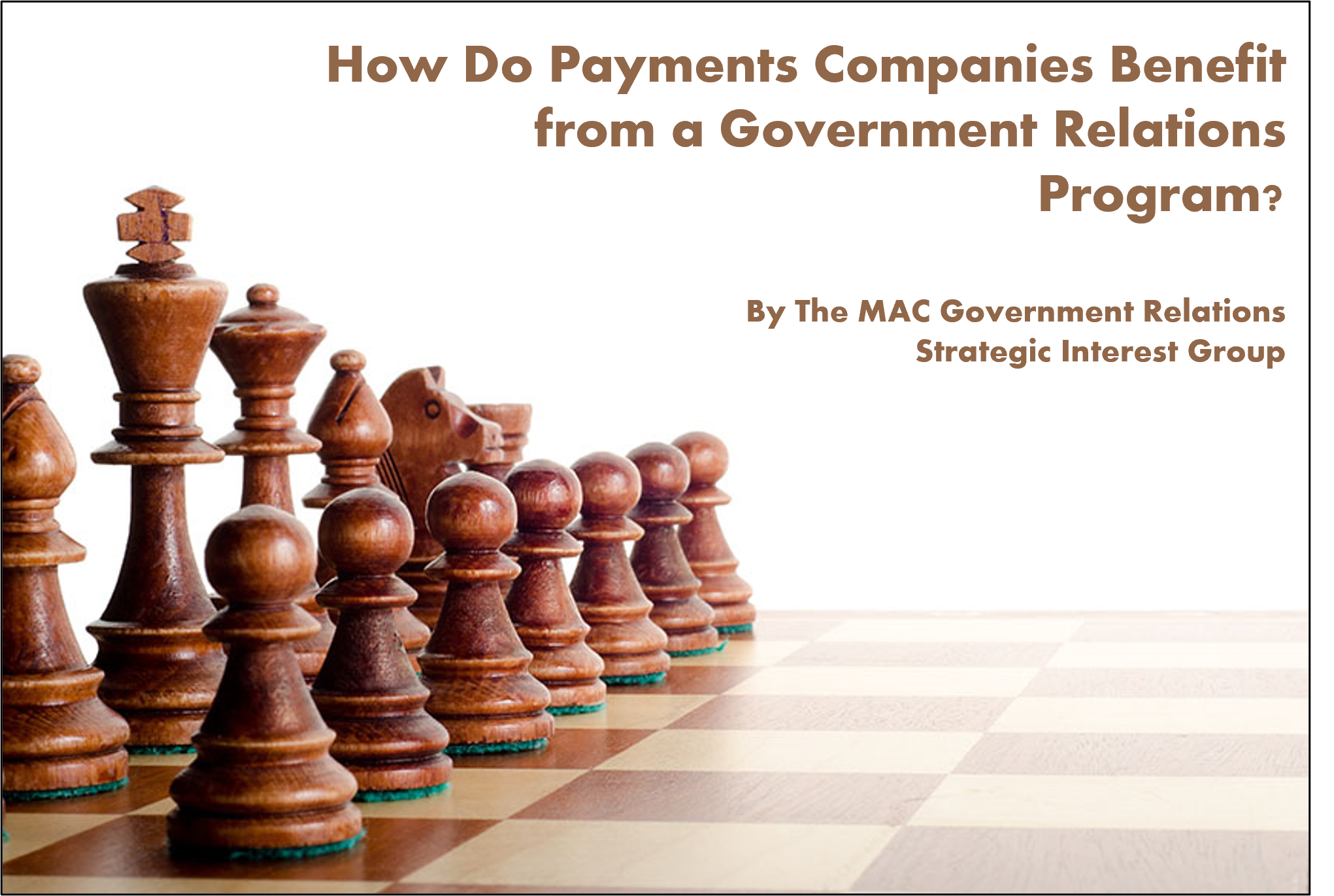 Why is Government Relations Important?
In its general form, government relations refers to the process of influencing government policies to meet the needs of a particular company or industry. For some companies, government relations may seem daunting, expensive, and potentially unnecessary. Many companies simply lack the bandwidth to figure out what issues are on the table, who to call about them, when to call, and what to say. Other companies have dedicated staff to enhance the company's reputation among government officials, educate the government on the benefits of the company's products and services in the marketplace, and influence the legislative and regulatory process most relevant to their concerns. Regardless of where your company fits in the spectrum, understanding that a single piece of legislation could have devastating effects on the business or its industry should inspire awareness and action.
Consider, for example, recent proposals in Massachusetts to create a "Real-Time" sales tax that would have shifted the obligation to calculate, collect, and remit sales tax on credit and debit transactions from merchants to payment processors, on a daily basis. As reported by the Electronic Transactions Association (ETA), the State Tax Research Institute estimated that the implementation of RTST in Massachusetts would have cost the payments industry $1.22 billion in upfront costs and $28 million annually. Through extensive advocacy efforts, ETA led a coalition of payments companies and merchants to defeat the Massachusetts proposal not just once, but four times in recent years. Read more about ETA's efforts, here.
If there is ever an example of the old lobbying phrase, you're either at the table or on the menu, the real-time sales tax fight demonstrates how important it was to be at the table. Depending on your specific interests, other initiatives impacting privacy and data security, cryptocurrency, money transmission, state licensing, services to cannabis-related businesses and other higher-risk merchant types, and other issues may need to be in your line of sight.
What Can Your Company Do to Enhance its Government Relations?
One simple step every payments company can do is get to know their local representatives. Figure out who represents your district at local, state, and federal levels. Your company creates jobs and contributes to the economy. Take time to explain your business to government representatives and their staff. As another saying from the lobbying phrasebook goes, when you need a friend in government, it is too late to find one. Payments can be a very complicated subject to those outside the industry. The flow of money and data combined with the various roles and responsibilities of multiple parties in a payment transaction are not concepts that can be picked up cold. Before you need them, have your local lawmakers and representatives prepared to understand your concerns by ensuring they have all the necessary background about your business and your industry. Even if your company does not fund an in‑house government relations program, company executives, legal counsel, and others can be equipped to have these meetings.
Your company might also contribute by offering input to trade association advocates on specific proposals that would have a negative impact on the company or the larger industry. Consider, for example, when regulatory agencies propose rules to enforce laws enacted by Congress. There are often notice and comment periods, giving the general public (including industry) an opportunity to weigh in. While few companies submit comments under their own names, many work with and through trade associations. Regulators often say that the most effective comments include real-life explanations and examples of how a proposal would impact a business so that those drafting the proposal—who usually have little to no experience in the industry—can better understand its impact. Keep an eye out for opportunities to provide this input and contribute to how laws governing the payments industry are shaped.
How Can MAC Help You?
Staying on top of new developments will help your company think ahead as to how proposed laws, regulations, or policies will impact growth plans and client development. Trade associations such as MAC provide industry-wide education and bring issues to the forefront. Within the last year, for example, MAC has provided MAC members with in-depth insights into the evolving regulatory landscape of payments in gambling and gaming operations, cannabis‑related businesses, and cryptocurrency. MAC also has access to industry experts that share knowledge and viewpoints about critical issues being addressed by federal regulators and lawmakers across the states. Members of our Government Relations Strategic Interest Group are part of industry-specific advocacy groups that track the issues, participate in hearings, and pass along their knowledge and insights to MAC membership. At Level Up 22, you can join members of MAC's Government Relations Strategic Interest Group for a panel presentation on Tuesday at 2:20 pm called "What Is Rolling Down the Capitol Hills" for a current picture of today's most pressing issues in government affairs.